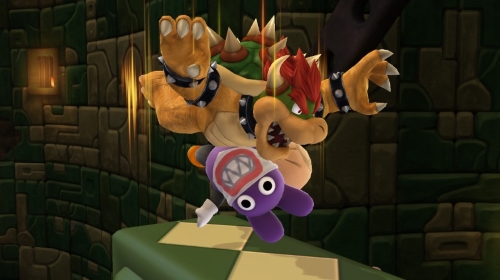 SSB4 AIR ACCELERATION LIST
Air acceleration speeds indicate how fast a character will reach their maximum air speed. Higher = reaches top air speed faster.

Base value is a static amount a character has.
Max additional is a value that scales with your stick position; holding all the way to the side adds to the base an amount equal to the value itself.
| RANK | CHARACTER | MAX ADDITIONAL | BASE VALUE | TOTAL |
| --- | --- | --- | --- | --- |
| 1 | Jigglypuff | 0.08 | 0.05 | 0.13 |
| 2 | Wario | 0.08 | 0.04 | 0.12 |
| 3-6 | Palutena | 0.1 | 0.01 | 0.11 |
| 3-6 | Peach | 0.1 | 0.01 | 0.11 |
| 3-6 | Rosalina | 0.1 | 0.01 | 0.11 |
| 3-6 | Mega Man | 0.1 | 0.01 | 0.11 |
| 7-10 | Mr. Game & Watch | 0.03 | 0.07 | 0.1 |
| 7-10 | Ness | 0.09 | 0.01 | 0.1 |
| 7-10 | Pikachu | 0.09 | 0.01 | 0.1 |
| 7-10 | Falco | 0.09 | 0.01 | 0.1 |
| 11 | Yoshi | 0.068 | 0.03 | 0.098 |
| 12-15 | Zero Suit Samus | 0.085 | 0.01 | 0.095 |
| 12-15 | Bayonetta | 0.085 | 0.01 | 0.095 |
| 12-15 | Lucas | 0.085 | 0.01 | 0.095 |
| 12-15 | Kirby | 0.065 | 0.03 | 0.095 |
| 16-20 | Sheik | 0.08 | 0.01 | 0.09 |
| 16-20 | Fox | 0.08 | 0.01 | 0.09 |
| 16-20 | Wii Fit Trainer | 0.08 | 0.01 | 0.09 |
| 16-20 | Toon Link | 0.08 | 0.01 | 0.09 |
| 16-20 | Samus | 0.05 | 0.04 | 0.09 |
| 21 | R.O.B. | 0.045 | 0.04 | 0.085 |
| 22-31 | Lucina | 0.07 | 0.01 | 0.08 |
| 22-31 | Marth | 0.07 | 0.01 | 0.08 |
| 22-31 | Robin | 0.07 | 0.01 | 0.08 |
| 22-31 | Mario | 0.07 | 0.01 | 0.08 |
| 22-31 | Bowser Jr. | 0.07 | 0.01 | 0.08 |
| 22-31 | Greninja | 0.07 | 0.01 | 0.08 |
| 22-31 | Mii Gunner | 0.07 | 0.01 | 0.08 |
| 22-31 | Olimar | 0.07 | 0.01 | 0.08 |
| 22-31 | Duck Hunt | 0.07 | 0.01 | 0.08 |
| 22-31 | PAC-MAN | 0.07 | 0.01 | 0.08 |
| 32-36 | Luigi | 0.75 | 0 | 0.075 |
| 32-36 | Pit | 0.65 | 0.01 | 0.075 |
| 32-36 | Dark Pit | 0.65 | 0.01 | 0.075 |
| 32-36 | Captain Falcon | 0.65 | 0.01 | 0.075 |
| 32-36 | Meta Knight | 0.65 | 0.01 | 0.075 |
| 37-39 | Lucario | 0.07 | 0 | 0.07 |
| 37-39 | Cloud | 0.06 | 0.01 | 0.07 |
| 37-39 | Mewtwo | 0.05 | 0.02 | 0.07 |
| 40 | Mii Brawler | 0.058 | 0.01 | 0.068 |
| 41 | Dr. Mario | 0.05656 | 0.00808 | 0.06464 |
| 42 | Zelda | 0.055 | 0.01 | 0.065 |
| 43-45 | Charizard | 0.05 | 0.01 | 0.06 |
| 43-45 | Villager | 0.05 | 0.01 | 0.06 |
| 43-45 | Donkey Kong | 0.05 | 0.01 | 0.06 |
| 46-55 | Diddy Kong | 0.05 | 0 | 0.05 |
| 46-55 | Bowser | 0.04 | 0.01 | 0.05 |
| 46-55 | Link | 0.04 | 0.01 | 0.05 |
| 46-55 | Mii Swordfighter | 0.04 | 0.01 | 0.05 |
| 46-55 | Dedede | 0.04 | 0.01 | 0.05 |
| 46-55 | Ike | 0.04 | 0.01 | 0.05 |
| 46-55 | Sonic | 0.04 | 0.01 | 0.05 |
| 46-55 | Shulk | 0.04 | 0.01 | 0.05 |
| 46-55 | Corrin | 0.04 | 0.01 | 0.05 |
| 46-55 | Roy | 0.03 | 0.02 | 0.05 |
| 56 | Ganondorf | 0.03 | 0.01 | 0.04 |
| 57 | Little Mac | 0.028 | 0.01 | 0.038 |
| 58 | Ryu | 0.025 | 0.01 | 0.035 |